Zerocoin (zWGR)
As the Wagerr network is still maturing we recommend that you not contribute to the Zerocoin pool. We will release an adoption plan of Zerocoin at a later stage when most of the coins have been distributed. Please adhere to the following steps to properly setup your wallet and disable Zerocoin.
Disabling Zerocoin
Launch the Wagerr wallet.

Uncheck "Enable zWGR Automint" in Settings (Windows) / Preferences (OS X)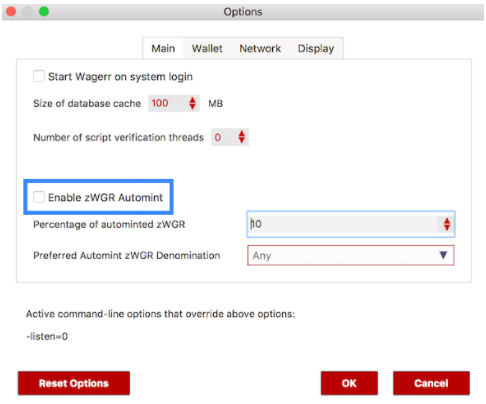 Daemon users can add the following lines to wagerr.conf to disable zerocoin minting:
zeromintpercentage=0
enablezeromint=0
Shutdown and restart the wallet.

Please note:
*For those who contribute to the zerocoin (zWGR) pool; your wallet.dat file is your proof of ownership of your coins in the pool (they are not recorded on the blockchain) and the wallet.dat should therefore be backed up every time new zerocoins are minted.
Until the network has matured, the Wagerr Team does not recommend minting zerocoin.
-
Wagerr home: https://wagerr.com
Wagerr Discord: https://discord.gg/tkcXS34
Wagerr Telegram: https://t.me/wagerrcoin