Zerocoin (zWGR)
As the Wagerr network is still maturing we recommend that you not contribute to the Zerocoin pool. We will release an adoption plan of Zerocoin at a later stage when most of the coins have been distributed. Please adhere to the following steps to properly setup your wallet and disable Zerocoin.
Disabling Zerocoin
Launch the Wagerr wallet.

Uncheck "Enable zWGR Automint" in Settings (Windows) / Preferences (OS X)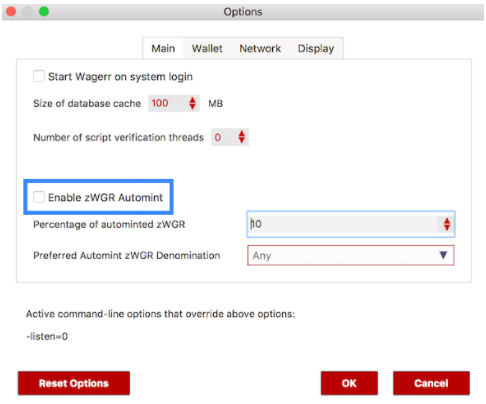 Daemon users can add the following lines to wagerr.conf to disable zerocoin minting:
zeromintpercentage=0
enablezeromint=0
Shutdown and restart the wallet.
-
Wagerr Home: https://wagerr.com
Wagerr Discord: https://discord.gg/tkcXS34
Wagerr Telegram: https://t.me/wagerrcoin
Wagerr Github: https://github.com/wagerr/wagerr/releases
Wagerr Electron GitHub: https://github.com/wagerr/wagerr-electron-app
Wagerr Twitter: https://twitter.com/wagerrx
Wagerr Facebook: https://www.facebook.com/wagerr/
Technical Support: support@wagerr.com