Overview
If you have some zWGR in your QT wallet and would like to convert or send this back to your regular WGR balance, please follow these instructions.
You will need to download the latest QT wallet from https://github.com/wagerr/wagerr/releases — newer releases improve the reliability of spending zWGR.
You can easily see if you have zWGR in your wallet from the front 'overview' tab, if you have some converted zWGR, it will show towards the bottom half of the wallet:
Conversion
Before you attempt the conversion, please do back up the wallet.dat file from the file menu and private keys from the console. The zWGR is stored on the wallet.dat file and separate from the blockchain, but it is always good practice to make backups..
After backing up the address, double click on the new address and label that shows, then copy the address.
Now, go to the 'privacy' tab on wallet and input the amount of zWGR you would like to convert. Not only do you need to have confirmed zWGR in the wallet for a successful send but the network needs enough available zWGR Global pool in able to convert for you.
Your zWGR balance, as well as the global supply, is available on the right on this tab.

Only up to 7 denominations can be spent at a time.

To select specific denominations, click on zWGR (coin) Control.

In the example screenshot above, you can see that spending 65 zWGR is not possible because the number of denominations required is 43 (40x1 + 1x5 + 2x10). Therefore the max available to spend at once is 29 (2x10 + 1x5 + 4x1).

You will also note from the screenshot that one of the Zerocoin inputs equalling 5 is not available as even though this has confirmed on the network, three successive new mints have not been created or added to the Zerocoin pool. You will have to wait for new mints so your Zerocoin input becomes available - this will show in the Global supply too.
Now the 7 inputs are selected from Zerocoin control, click the 'Spend Zerocoin' button:
then enter your wallet passphrase in the popup box: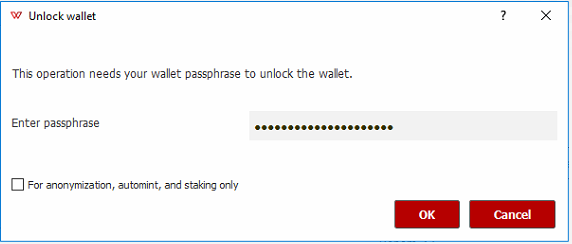 And then click on 'Yes' on the pop up window
Please be patient whilst the computational activity completes:
Success! After confirmation, the converted zWGR to WGR will be available in your account balance.
NOTE: A 10% of your WGR balance is automatically converted to zWGR, in order to have anonymized funds available to spend at your convenience. If you would like to disable this process in the wallet, follow the guide at https://wagerr.zendesk.com/hc/en-us/articles/360001091811-How-to-disable-zWGR-Automint-zerocoin.
-
Wagerr Home: https://wagerr.com
Wagerr Discord: https://discord.gg/tkcXS34
Wagerr Telegram: https://t.me/wagerrcoin
Wagerr Github: https://github.com/wagerr/wagerr/releases
Wagerr Electron GitHub: https://github.com/wagerr/wagerr-electron-app
Wagerr Twitter: https://twitter.com/wagerrx
Wagerr Facebook: https://www.facebook.com/wagerr/
Technical Support: support@wagerr.com